August 15th, 2013
It looks like the "Hizamakura Lap Pillow" is here to stay.
After experiencing a surge of popularity several years ago, it appears that interest in the cushiony, mini-skirted human substitute, which is shaped like a pair of kneeling woman's legs, is gaining steam yet again.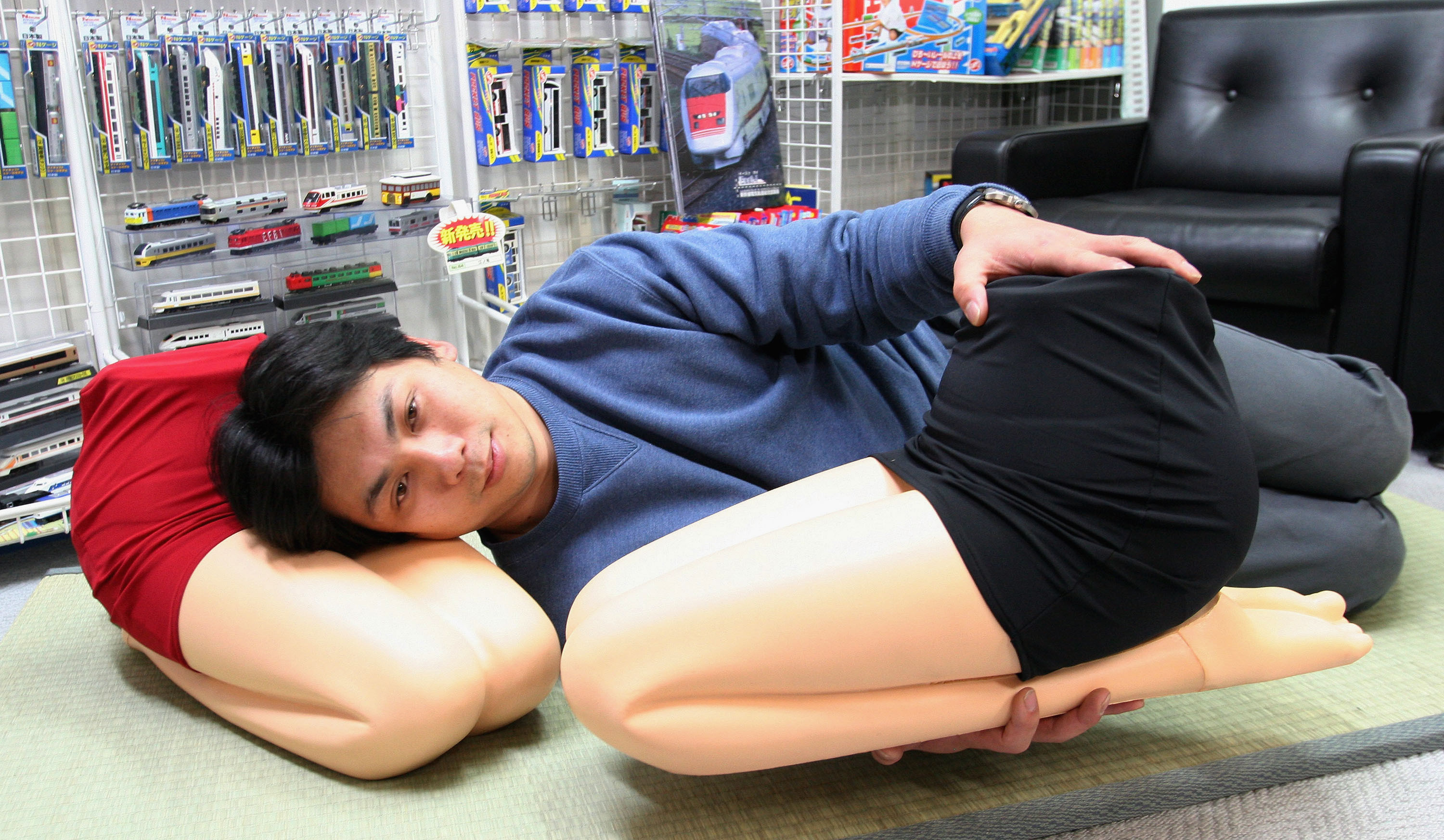 Developer of the "Hizamakura lap pillow," Makoto Igarashib, reclines as he introduces the product at Trane Co., Ltd.'s headquarters on Dec. 14, 2004 in Tokyo. At the time, the "Hizamakura" was described as being one of the more "popular prize items for Christmas and year-end parties." (Photo by Koichi Kamoshida/Getty Images)
 The Daily Mail reported this week that the cushion, said to be the brainchild of Japanese company Trane Corporation, is a popular purchase for customers traveling in and out of Japan's Narita International Airport. The leggy pillow is reportedly on sale at the airport's duty free shops and is particularly favored by tourists looking for novelty gifts.
"Sometimes all you really want is a home comfort close at hand," travel expert Oonagh Shiel told the news outlet. "What could be better than a pack-away lap to soothe those occasional bouts of homesickness?"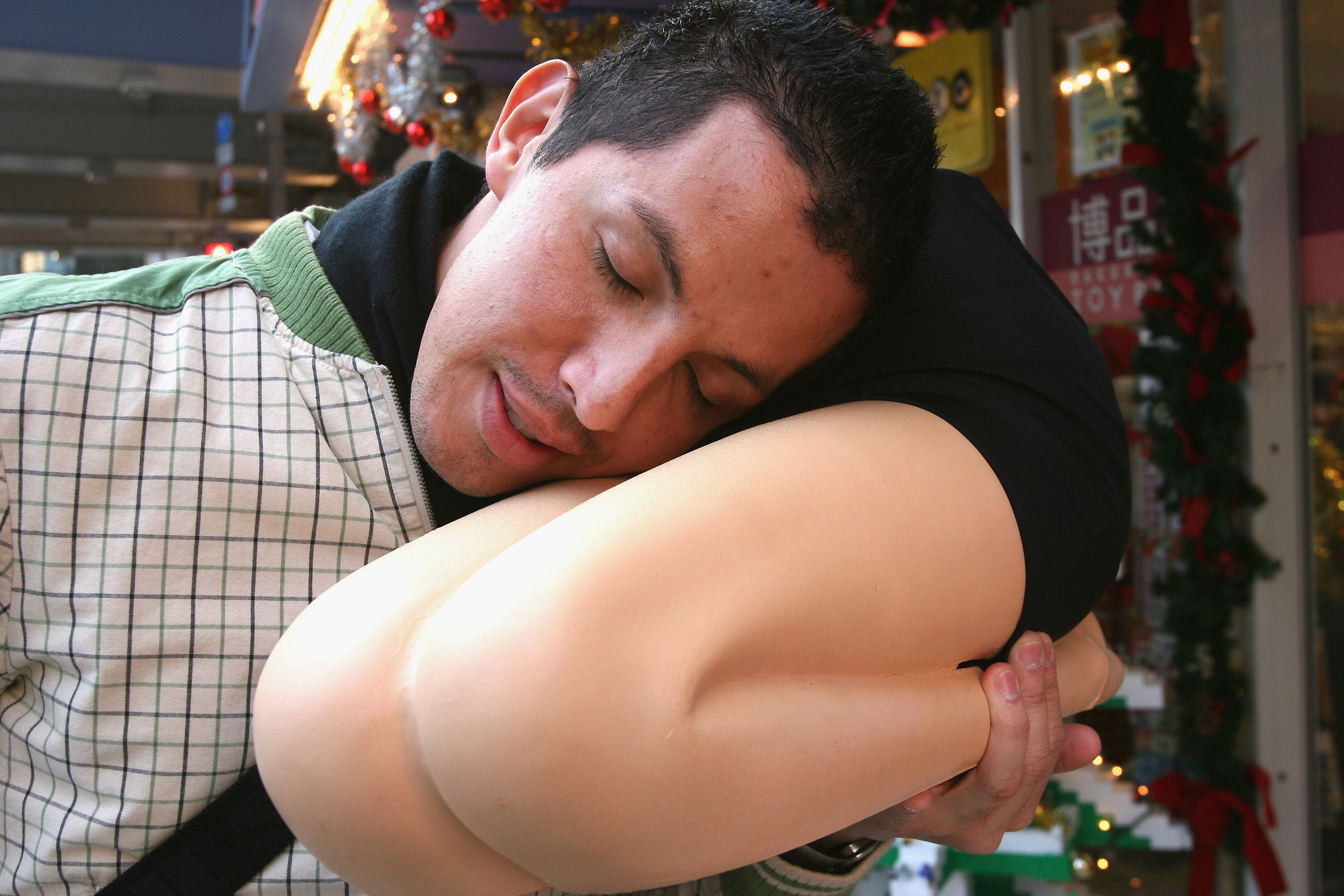 A tourist tries out a "Hizamakura," or lap pillow at Hakuhinkan toy shop on Dec. 14, 2004 in Tokyo. (Photo by Koichi Kamoshida/Getty Images)
 The "Hizamakura Lap Pillow" first made headlines in the mid-2000s when Trane Corporation first launched the product. It has been touted as a "healing" home accessory that serves to assuage one's loneliness.
A product description on the online store Japan Trend Shop reads:
Missing that special someone? Longing for the feeling of comfort and warmth you only from a woman's lap? Maybe you just want to take a nap and need a pillow? Shaped just like a beautiful woman's lap, kneeling in Japanese-style, the Hizamakura "Lap Pillow" gives the best re-creation available, complete with your choice of a red or black skirt to top it off. Hizamakura is soft and elastic to the touch, and perfectly suited to lying your head on.
Unfortunately, if you're jonesing for a mini-skirted cushion of your own, both the standard "Hizamakura Lap Pillow" and a "Maid" version of the cushion (similar to the original but adorned with a lacy apron and knee-high socks) is sold out on Japan Trend Shop. The pillow also appears to be sold out on Amazon.jp.
It seems that you can, however, buy a counterfeit version of the kneeling cushion on Amazon for about $30.
If laps and thighs aren't really your thing, don't fret: You can always opt for agirlfriend/boyfriend body pillow — a cushion shaped like a person's torso that promises to recreate "the comfort of having your beloved partner" by your side.
Would you buy the lap pillow for yourself or a friend? Tell us in the comments below.