August 15th, 2013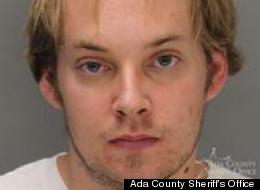 Ryan Tannenholz is charged with crimes against nature and cruelty to an animal.
An Idaho man was arrested Thursday after police say he sexually penetrated a cat on more than one occasion. Ryan Havens Tannenholz, 28 — a self-described "furry" who dresses up as a dog he calls Bubblegum Husky — is chargedwith six counts of crimes against nature, and one count of cruelty to an animal, the Idaho Statesman reported.
Police say the Boise man abused the cat multiple times between January 2012 and January 2013. It's unclear how they learned about the Tannenholz's alleged actions, but an arrest warrant was issued for him in late July.
"It just means that at this point was the time when they had probable cause to do the arrest," Deputy Prosecutor Cathy Guzman told the Statesman.
Online Furry News Magazine Flayrah reports that Tannenholz was a member of the furry fandom community. According to the website, Tannenholz was a "fursuiter" who portrayed himself as a "sparkly" husky, a blue fox named Kismet fox, and another purple canine.
While some commenters on the Flayrah article argue that publicizing rare cases like Tannenholz's gives furries a bad rap, others that it's better for the furry community to acknowledge these kinds of incidents.